April 29, 2022
Steps to Take after a Car Accident
What to do After a Car Accident
A traffic crash can be a traumatic event that can leave the victims confused about what to do next. However, taking the right steps in the wake of a crash can prevent future problems. After a serious vehicular mishap in the Golden State, one thing you should consider is to contact a car accident attorney in Southern California. You can find the help you need from the Brockmeier Law Group.
Taking the Right Steps
One thing you never want to do is leave the scene of the accident without notifying others. Even though a crash will probably not result in any criminal charges, leaving the scene is a crime.
Crashes that result in death or injury or extensive property damage also must be reported to the Department of Motor Vehicles.
Any injuries that are suspected should also be given immediate attention. Even a minor injury could have long-term consequences if it does not receive needed treatment.
In the event of serious injuries, the police and emergency personnel should be notified. If they are not physically incapacitated, those involved in the crash should exchange certain vital information, including: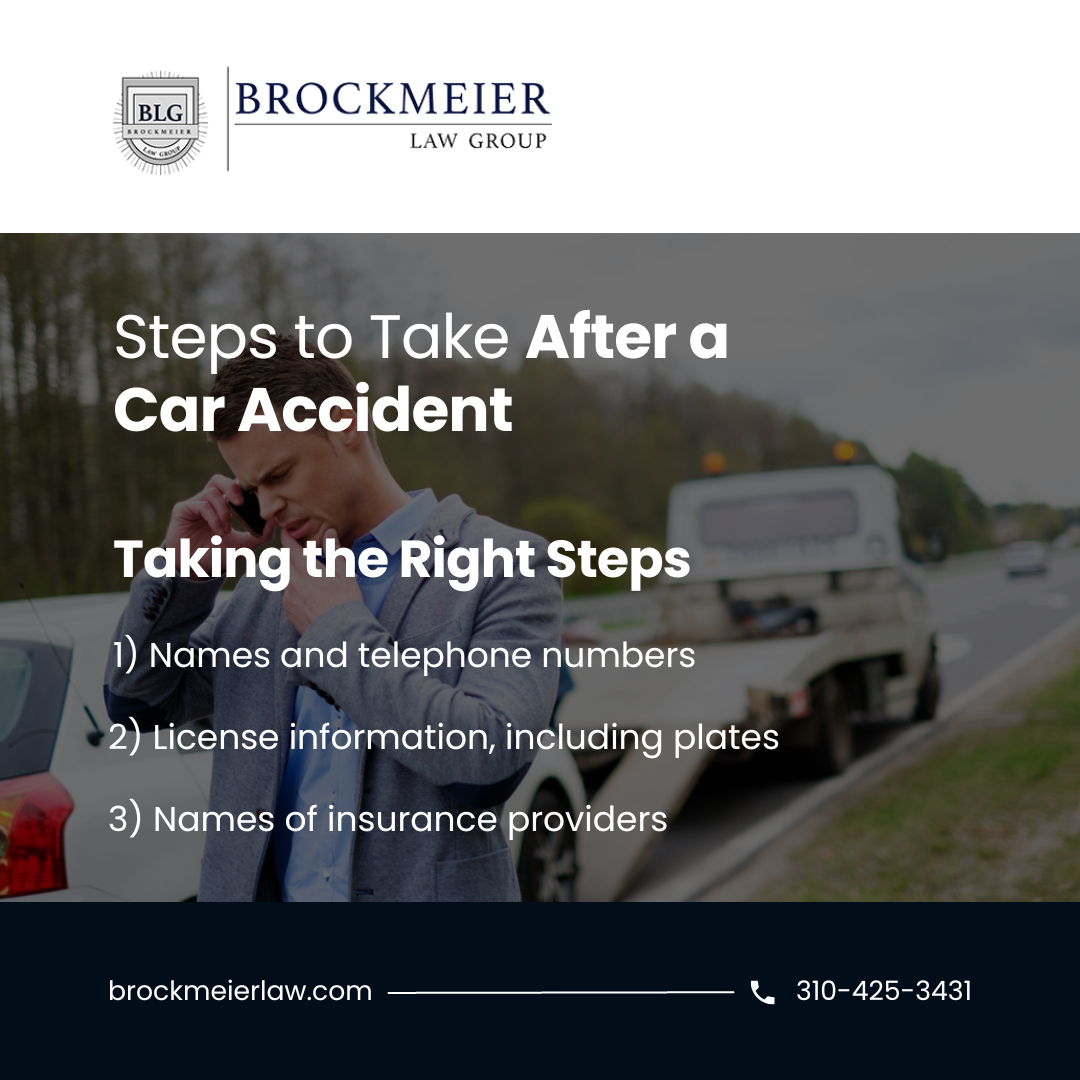 1) Names and telephone numbers
2) License information, including plates
3) Names of insurance providers
Other Steps to Take
If possible, you should take pictures of the vehicles involved and get the names and numbers of any witnesses.
If the police are involved, an official report will be completed. This information can be beneficial in any subsequent proceedings. However, you should never admit to any guilt or share any information other than what is necessary.
You need to notify your own insurance provider. You should also seek assistance from a Southern California car accident lawyer, who can help you with the many issues related to a crash. You should specifically turn to the services of a Southern California car accident attorney from the Brockmeier Law Group.
Let the experienced attorneys at Brockmeier Law Group help with all your legal needs. We provide services to clients in Irvine, Los Angeles, San Bernardo, San Diego, Orange County, and throughout all of Southern California.
Contact us today.
Give Brockmeier Law Group a call at
310-425-3431
.